Milinskis are an ordinary family in the business of dealing with extraordinary circumstances. Both Oleg and his wife Tanya grew up in Ukraine in the 90s to mothers gone to work in Italy. Relying on their mothers' financial support, they also left Ukraine as soon as they could. After years of illegal odd jobs in Italy they came across a niche business opportunity and are now running a transnational business that provides the service of repatriating the bodies of migrants deceased abroad back home to Ukraine. They operate across Europe and informally call themselves "funeraltsi", meaning "the people of" Funeralia. Together with 2 daughters, their family is also transnational, never settled, moving between Ukraine, Poland and Italy, redefining the idea of home.
Funeralia has a fleet of black minivans and drivers always on the move across thousands of miles. Its undertakers identify, collect and prepare bodies, navigating a myriad of national bureaucracies. Most clients from Italy are women, caretakers. For them migration is a series of impossible emotional, financial and bureaucratic hurdles: as one of our protagonists says, "it's hard to emigrate, hard to work as a migrant, and dying as a migrant is just as hard." 
The film follows a mosaic of migration journeys: Oleg's family moving to Sicily in another attempt to build a home; a journey of a deceased migrant, crossing the border one last time, on the way to a place which has not been home for a long time; and the story of a migrant business that makes this possible. The story of Milinskis' move to Sicily touches upon all the aspirations that drive millions of migrants – a strive for better life and a home. The story of return is a story of the migrant generation before them, paving the way and paying the cost of free movement in Europe.
Italians say "whenever someone dies, there is a business to be made." When it comes to the death of labor migrants, the rules, practices and morality of such business are different. Most migrants can't imagine death in migration. The money they make is sent back to finance their children's education, family houses and the everyday survival of people in another country. 3000 Euros required for repatriating the body back to Ukraine is an astronomical amount for most.
Their families are far away. Their home, even after decades of living abroad, is neither here nor there. But the idea of home, of family, even if they don't meet for years, becomes the driver of all decisions, life choices, and self-discipline, thousands of miles away from the actual places and people. Their death exposes the difficulties and hardship of migration all at once - from bureaucratic hurdles, to family conflicts, financial troubles and the uncertainty as to where "home" is.
This is where Funeralia comes in.
It all begins with a phone call from a relative. Oleg, Funeralia's owner and first point of contact,  picks up the phone and goes through the usual list of questions, options and instructions. As repatriation unfolds, we tell the story of the generation passing away, the story of the second generation built on its hard labor and the story of people taking care of death and the return home.
About 90% of Funeralia's cases from Italy concern the death of women, once employed in highly skilled jobs, who had to settle for a life of demanding low-skilled work in Italy, such as elderly caregiver or live-in domestic worker. Oleg's mother was one of these women. He experienced his business on his own skin.
Oleg is a second-generation migrant and a successful businessman with big ambitions for his family and business. He never lets go of his 2 cell phones with 2 SIM cards in each. He is an approachable boss, and a compassionate voice for those who call in search of help, a steady partner and a loving father. The emotional cost of business takes its toll on him but also provides him with meaning - he's not in it only for the money. We see that behind the business there is a human story, a story of a family, who learns to deal with proximity of death in their lives.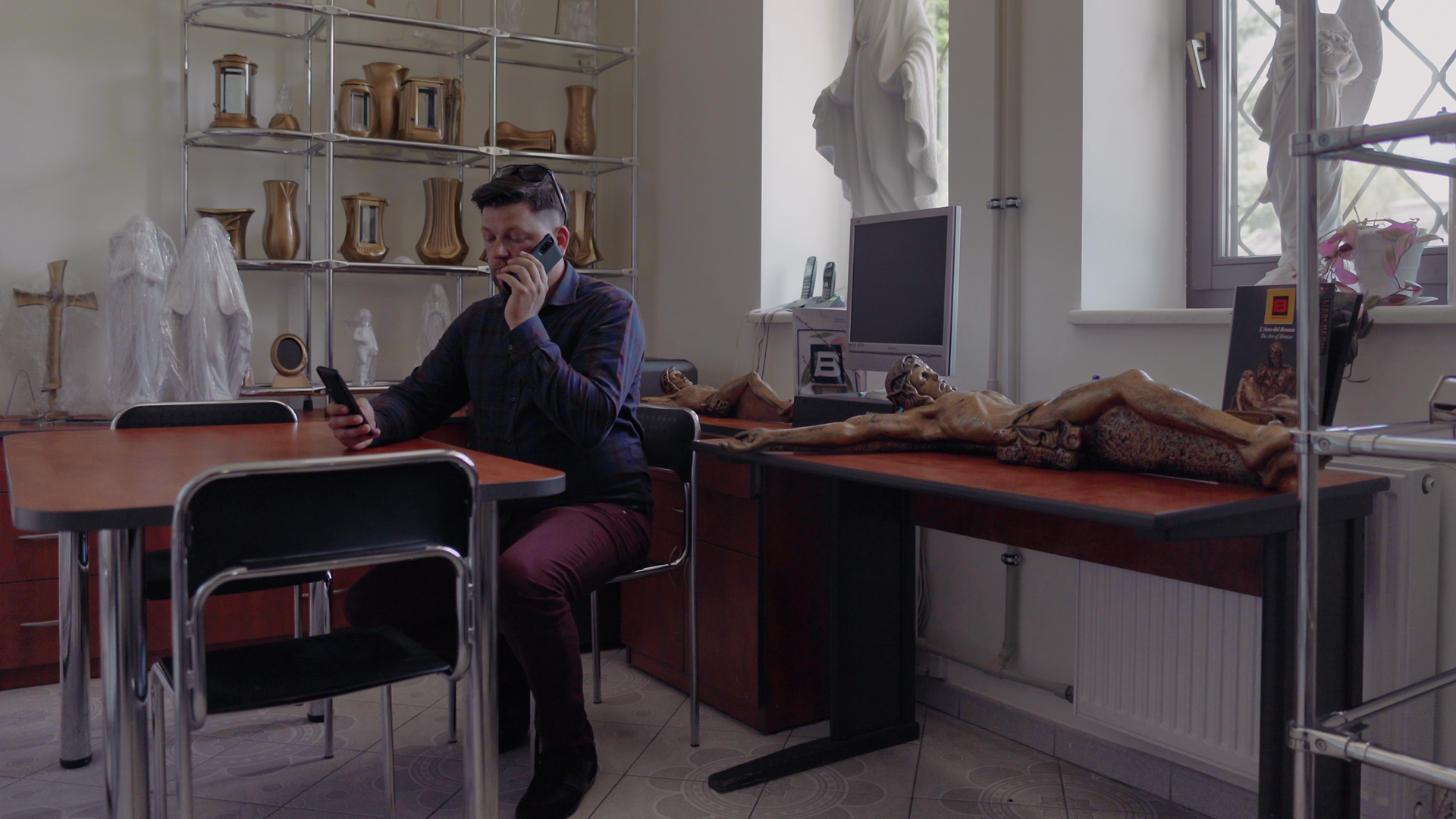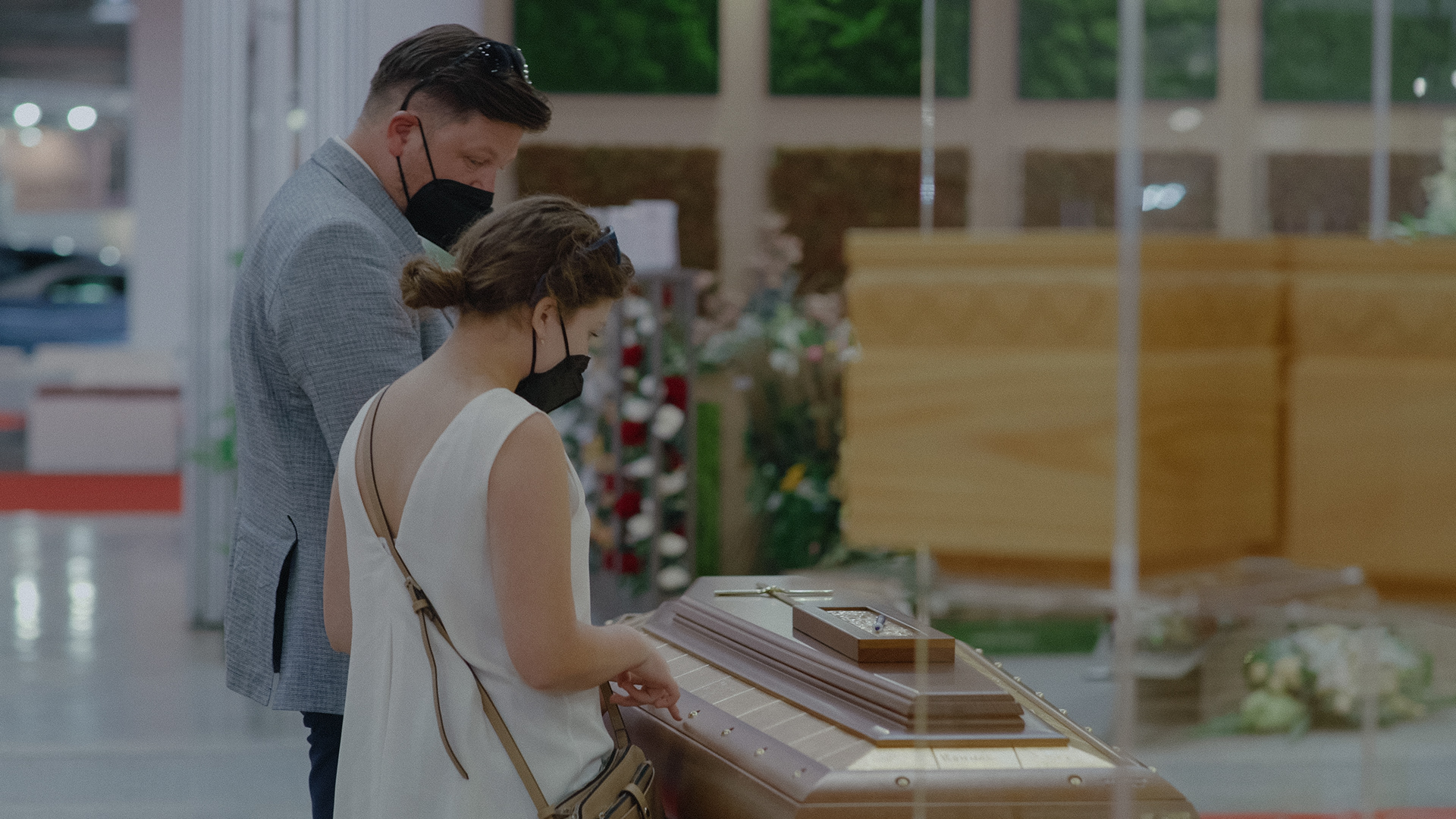 Besides moving bodies across borders, Milinskis themselves are constantly on the move. Like their own clients, they move every few years in search of a better home, a better life. Tanya (35), Oleg's wife, is obsessively home-making, even during shorter hotel stays, she travels with her own pillow and plants flowers just a few weeks before moving out. She also started as a low-skilled illegal migrant in Italy where her mother, a former nuclear engineer, still works as a caretaker. As we watch them create a new home in Sicily, Tanya is keen to resettle in a new status of a successful business family.
Their story of success seems to be challenged by their kids' generation. Mariana (13) is fiercely independent. She doesn't have many friends and doesn't like it when people ask her where she is from. She is born to a Ukrainian family, a citizen of Poland, living in Italy and fluent in 5 languages. She has by now changed 4 kindergartens and 4 schools, in 3 countries.
After an initial call with the relatives of the deceased, Oleg delegates the case to one of Funeralia's managers, who will identify, collect and prepare the body, arrange all paperwork and arrange the transportation to Ukraine. This is where we meet Natasha and Sergei, who receive the case with instructions from Oleg.
A married couple, Natasha and Sergei, are first generation migrants and managers who collect bodies from all over Italy. Natasha (45), a former ballet choreographer, takes up major hard work, washes and dresses the bodies, and prepares all paperwork, smoothing bureaucratic difficulties with female charm. Sergei (50) says this job is too hard. He rather drives Natasha to their clients and transports the bodies. They live from month to month, in shared accommodation on the outskirts of Milan, and spend most days in their black minivan. They are always together and always alone: their work and their relationship is their home.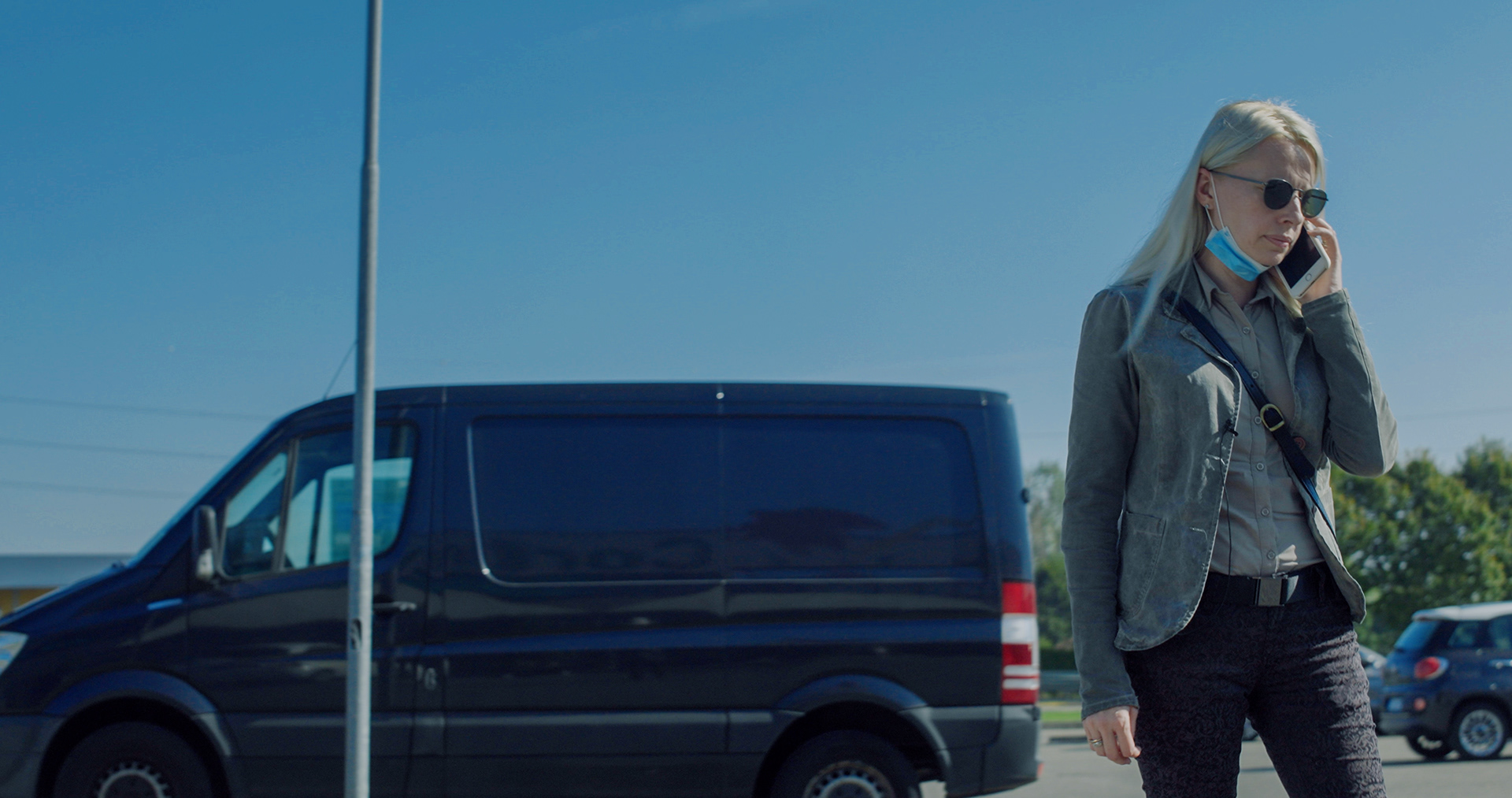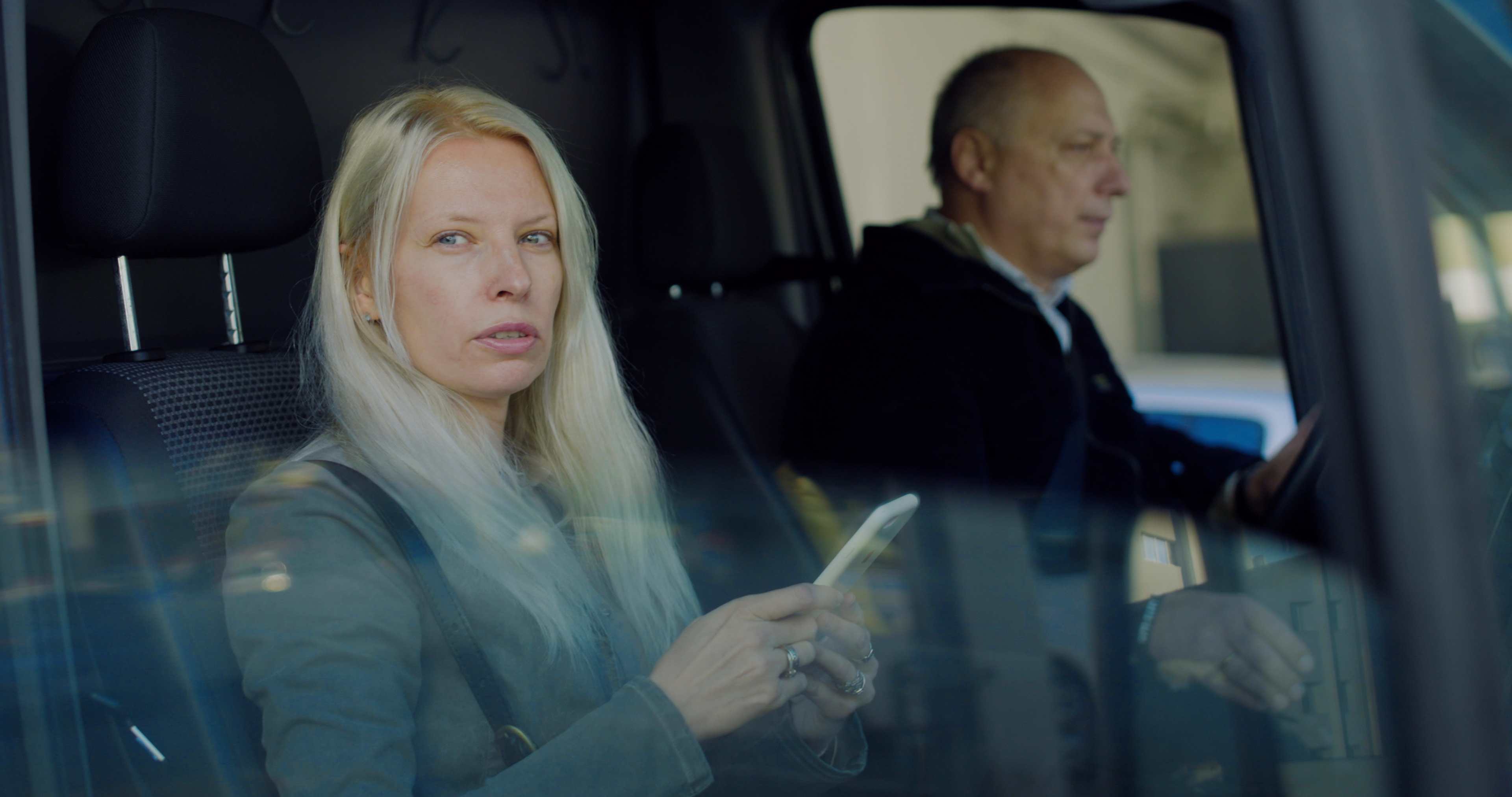 They refer to Funeralia as their "family." The emotional and physical price of this job is only too visible as Natasha tries to create moments of lightness by singing in the van or recording cheerful video messages for her family back in Ukraine from various scenic spots on their endless roads.
Natasha and Sergei arrive at the pick-up location. Natasha puts on her white overall, and before she goes in alone, exchanges a few jokes with the morgue workers who are almost always all men. When her work is done a small farewell is held by the people who knew the migrant. The crowd is mostly women who are thrown together through their fate of displacement. They are a strange form of tribe, formally unconnected, but people with painfully similar life-stories, problems, traumas and hopes. 
The film ends with the journey of the body through the multiple borders, which instead of taking the migrant back home seems to emotionally take them further away from it. It is here that the film ends with a question: "where is home?"